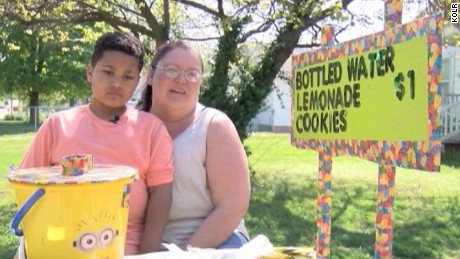 (CNN)Most kids who set up lemonade stands hope to earn enough for an ice cream or maybe a new bike. But young Tristan has a loftier goal: He wants to get adopted.
From his front yard in Springfield, Missouri, the 9-year-old spent last weekend selling cups of lemonade and cookies by the hundreds. Every cent will go to legal fees so his guardian, Donnie Davis, can adopt him.
Davis and her husband, Jimmy Davis, had expected to raise a few hundred bucks with the lemonade stand and a yard sale — far short of the $5,000 and $10,000 in fees it will take to adopt the boy. But then the local media got wind of her story, word got around, and people began flocking to her yard.
"It just spread," she told CNN. "We had people driving two-and-a-half hours just to meet Tristan."
On Saturday alone, more than 600 people came to donate and share their own adoption stories, Davis said. "We were constantly running for more ice, water, cookies," she said. "There was one point in time, we put water in the cooler and sold out before it was even cold."
Here is an example of how Publicity can help a cause and now there are so many ways to publicise, one of the best being blogging and if you are interested in Blogging then please check out the author of this site and many others,
Robert A Williams
The family has now raised more than $18,000 from in-person sales and donations through
an online crowdfunding page
. Davis says the additional money will go into an education fund for Tristan.
It's welcome news for a boy whose life has been full of struggles.
A difficult past
Ten years ago Donnie Davis' former husband impregnated a 15-year-old girl, who then gave birth to Tristan.
When Tristan was 3 months old, his biological father was sentenced to prison for 22 years on a federal gun conviction. Davis divorced the father and agreed to help the struggling young mother by taking temporary custody of Tristan.
After the adoption is complete, the family hopes to take a vacation to Oklahoma City to see NBA star Kevin Durant — Tristan's favorite player — play a game. Tristan always tells his mom, "Kevin Durant is my bro."
To mark a new start with his adoptive family, Tristan also wants to change his name. His first choice was Star-Lord after Chris Pratt's character in his favorite movie, "Guardians of the Galaxy."
"It's a good laugh, but Star-Lord is not going to be his new name," said Davis, who reminded Tristan that Star-Lord's real name in the movie is Peter Quill. "We weren't crazy about Peter but he loves Quill. He proudly tells his teachers and everyone to now call him Quill Tristan Davis."
Read more: https://www.cnn.com/2016/04/26/us/lemonade-stand-adoption-missouri-boy/index.html
15 total views, 1 views today